Swab Rigs
At SOS Well Services, we've engineered a swabbing strategy to help you get the most out of each well.
We have
20 years of experience,
advanced equipment, and
knowledgeable swabbing crew.
We can safely, efficiently and dependably maintain your wells, to keep them producing profitably.
2020 Watson Hopper GXTA Swab Unit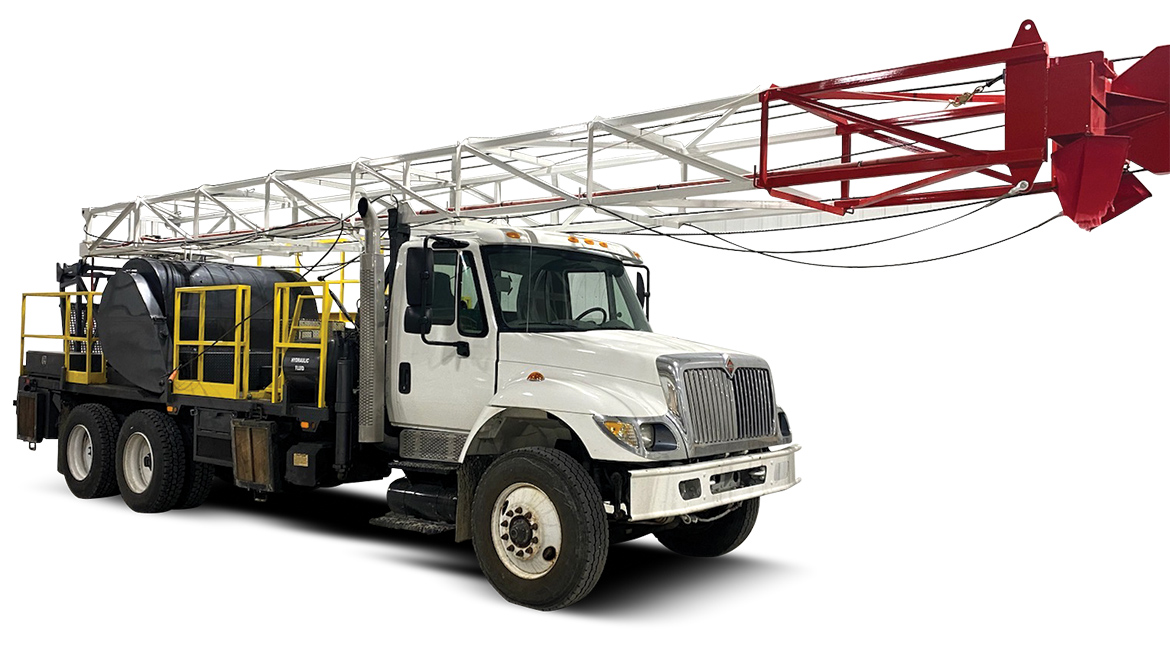 2020 Rig Features¹:
48' mast with 26,000lb static load rating
GX single drum 10" × 42" brakes
Capacity of 16,000' × 9/16" line
24" enclosed crown sheave
30" Hopper clutch
ASME chemical tank
ASME brake water spray tank
Cummins L9 EPA 2017 370hp @ 2,000rpm
1250lb-ft torque @ 1,400rpm
Allison 3000 PDS 6-speed automatic transmission, electric controls
¹We also own and operate a 2005 model with the same specs.
2019 Tiger General Swab Rig with Tier 4 motor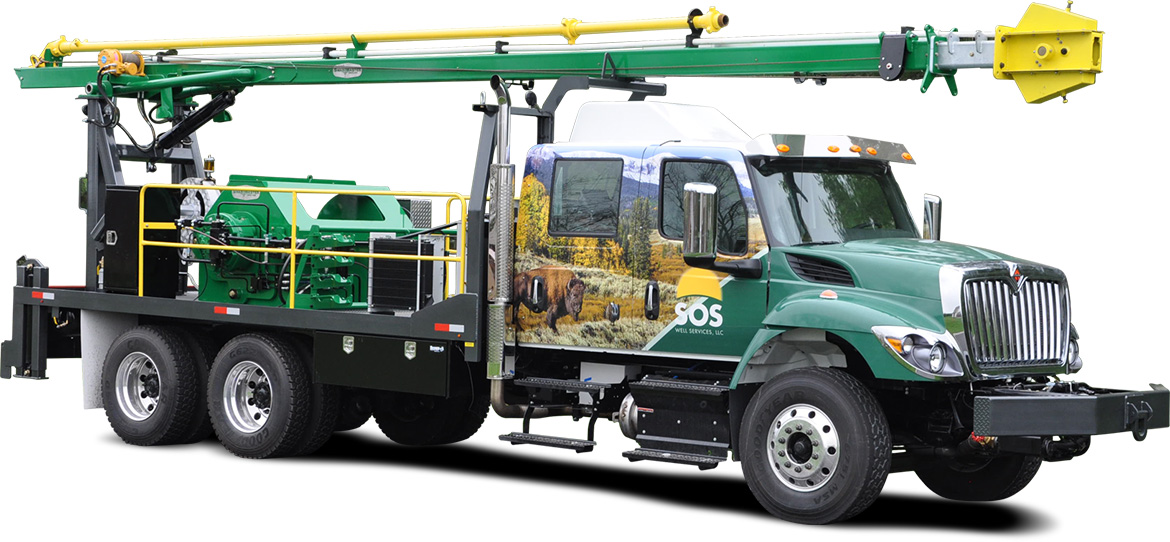 2019 Rig Features:
Direct hydraulic drive rig
Four-wheel drive, with locking differentials
20,000' swabbing capability with 5/16" swedged sand line
Average swab line speed of 900-1,000 feet per minute
55' derrick
Enclosed crown sheave to prevent splashing
80' of high-pressure hard line
Fully tooled rig to perform basic swabbing and wire line work
Capable of conventional swabbing down the flow line to avoid gas release to the atmosphere
Winter package to aid cold weather starting
Tiger Vision with advanced logging for down hole and surface applications
Conservation rig
Tiger Vision Electronic Depth and Load Sensing System
Tiger Vision is an exclusive, proprietary solid state computer system
Tiger Vision uses an electronic depth indicator
Gross and net loads pulled in pounds
Computes and displays line speed
Indicates fluid depths
Has a depthometer selectable horn that sounds near top of well 500' from surface
Displays and streams well data
2014 Tiger General Swab Rig with Tier 4 motor

2014 Rig Features:
Direct hydraulic drive rig
Four-wheel drive, with locking differentials
20,000' swabbing capability with 5/16" swedged sand line
Average swab line speed of 900-1,000 feet per minute
42' derrick
Enclosed crown sheave to prevent splashing
80' of high-pressure hard line
Fully tooled rig to perform basic swabbing and wire line work
Capable of conventional swabbing down the flow line to avoid gas release to the atmosphere
Winter package to aid cold weather starting
Tiger Vision with advanced logging for down hole and surface applications
Food Bank rig
Tiger Vision Electronic Depth and Load Sensing System
Tiger Vision is an exclusive, proprietary solid state computer system
Tiger Vision uses an electronic depth indicator
Gross and net loads pulled in pounds
Computes and displays line speed
Indicates fluid depths
Has a depthometer selectable horn that sounds near top of well 500' from surface
Displays and streams well data